About Us
Spectra Plast manufactures highly innovative components that are aimed at revolutionizing the automation industry with our smart and sustainable solutions. With our integrated manufacturing and maintenance support, we believe in making the world a safer and cleaner place.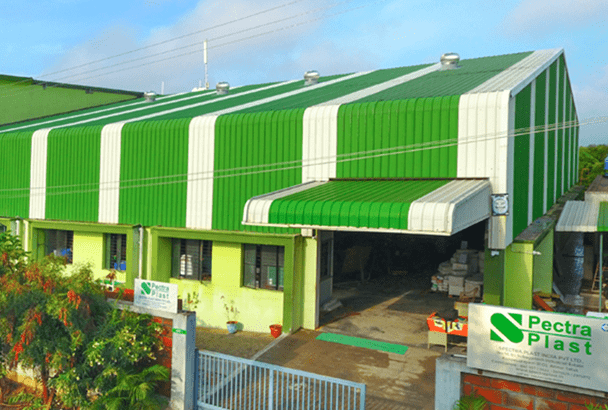 Manufacturer & Exporter of Modular belts, Slat Chains and a complete range of conveyor components.
"Quality is never an accident. It is always the result of innovative & intelligent effort"
Spectra Plast began as a tailored made engineering components manufacturer in the year 2000 with a modest background. Our core value lies in providing customized solutions to machine builders through the products we offer. We gained reputation through our dedication, hard work and a sharp acumen to enhance product quality and expand our application through proven solution.
Gaining momentum from this model, we diversified our operation into conveyor automation for bottling and beverage industry. We evolved an end to end support for the conveyor components market with dedicated design and service support for the conveyor industry, through our exclusive programs like line audits, mapping, maintenance and service support. We received an overwhelming response from our customer for our processing capabilities of wide and latest range of engineering plastics that encouraged us to explore new applications in food, pharmaceutical, automotive, tyre, personal care, health care and so on. Today we proudly represent our products through the trust of more than 2500 customers in more than 25 countries around the globe. We believe in a clean and safer environment providing sustainable engineering solutions through our products and services.

READ MORE
VISION
Spectra Plast is focused to position itself as a leading brand in the Global market, Innovate and apply, to steer the company towards sustainable growth.
MISSION
Spectra plast strives to be a one-stop solution for all conveyor manufacturers, machine builders and end-users with a wide range of conveyor components and engineering plastic components.
Directors' Note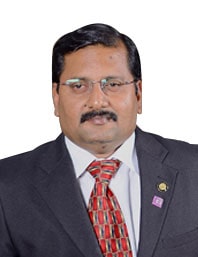 Ramkumar is the founder of Spectra Plast inculcating strong values to serve the industry with best practices and Spearheads the company with core values set as the cornerstone for development.
Mr. Ramkumar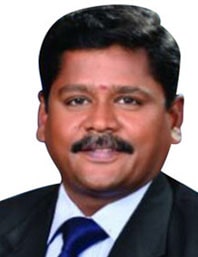 Muthuvel is the Co-founder and heads Operations with two decades of experience. His aggressive leadership and technical acumen bring the trust of the brand "Spectra".
Mr. Muthuvel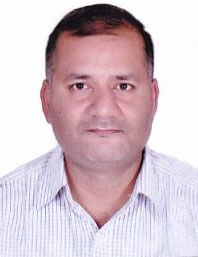 Balachandran heads the export operations and global accounts and a stakeholder in the company. He also heads administration and strategy management for products.
Mr. Balachandran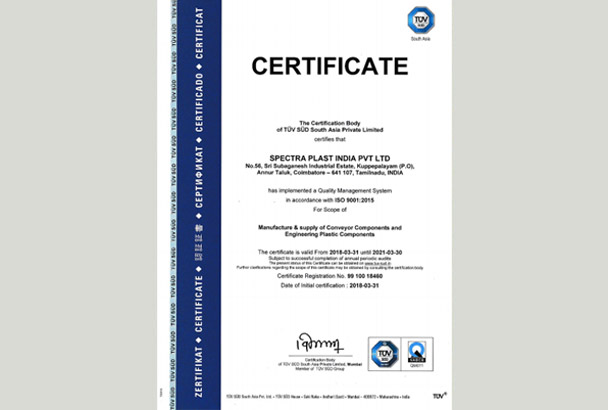 Spectra Plast India Pvt. Limited are committed to work towards continual improvements in the quality
Quality Policy
We at Spectra Plast India Pvt. Limited, we are committed working towards continual improvements in the quality of deliverables in order to enhance customer satisfaction and to attain global standards by the active participation of all employees
WE ARE COMMITTED TO:
Provide consistent quality in every aspect of work
Adhere to delivery schedules
Render prompt and effective customer service.
Infrastructure
Spectra Plast is well known for its state of art manufacturing facility spread over an area of 35,000sq.ft in Coimbatore, India. Exclusive machining facilities with CNC turning centres, DRO milling centres, Conventional lathe machines, Spindle moulders for customized solution suiting a wide span of industrial application. In house injection moulding facility equipped with tool maintenance for quicker and better service to our customers. We are equipped with more than 1000 varieties of conveyor components and 200 tonnes of semi-finished engineering plastics. We are the largest stockist of engineering plastics and conveyor components in India.
Manufacturer & Exporter of a comprehensive range of conveyor components and customized engineering
We provide one-stop solution for your conveyor needs